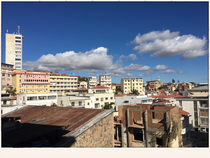 🎶🎶🎶 Home is where my heart is...


...my heart is my home 🎶🎶🎶 ❤️

❤️❤️





This song has bin giggling around in my head most of this evening, and I have admit that this text fits my way of thinking about HOME.




While waiting for the flight from Paris to Antananarivo yesterday did we suddenly run into a lady we knew, and the same happened on the flight and also in the terminal while waiting for our luggage. This all gave me the feeling of flying home when went down to Madagascar yesterday.



Living abroad for more than 20 years often give people around me a reason to ask me where my home is? 

My answer have always been: a persons home is not to find on any land map, but only in the heart of his lowed ones ♥️





So lucky me can feel at home everywhere, and that's a feeling I'm grateful for having no matter where I am. Just now home is in Madagascar enjoying a nice evening with some good friends, some weeks ago up home in Norway visiting friends and family, some months ago in Ghana with two of my Norwegian cousins meeting up with their Ghanian beloved friends and also back home in Switzerland, my since more than 20 years chosen home address land. 


So as you see, home is everywhere 😀


Maybe this philosophy is 

the secret behind why I've never being Homesick, because I'm always home where ever I am ♥️😀♥️


In just some days will I carry on to the Comoros and hopefully get the chance to get to know not only a new culture,  but also many new interesting and loving people that will make me feel at home ♥️😀♥️